Multiday tours
In addition to the various day tours, in recent years many participants have also expressed a desire for guided tours lasting several days.
Even before the Peace Tours came into being, I responded to this.
I get inspired and like to go on a multi-day tour with different participants and overnight stays in different places.
We ride each tour with peaceful intentions and joy in our hearts.
This is my contribution to a human interaction with healthy people.
The Black Forest Tour 2017 - or how it all began
The first multi-day tour was actually not yet a peace tour. At least the name did not exist yet.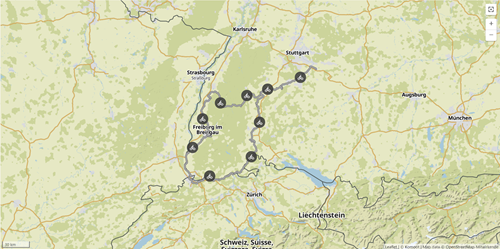 From an idea I put a request in the Mitradlerportal on the Internet. Quickly 3 fellow cyclists were found, a tour worked out and planned.
Through the Black Forest in 9 stages.
At that time I was not yet a tour guide and completely inexperienced in leading bike tours. But I did it anyway - and everything worked out fine.
For privacy reasons, I am unfortunately not allowed to publish a film of the tour, but the routes can be accessed via the following maps.
Upper Swabia - a tour guided by Vero
After a very nice tour, one participant wished for a multi-day tour to her former home.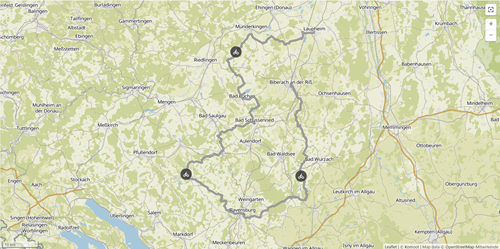 As an experienced cyclist, she took the initiative without further ado and planned the entire tour alone.
From this idea, we gladly participated and I as a tour guide accompanied your route with one eye.
She planned and led the route independently and confidently.
Through Upper Swabia in 3 very difficult stages.
As a tour guide I have enough experience in leading bike groups. I let them - and everything worked out somehow. However, the routes were extremely difficult.
At the end of the tour I was physically exhausted. Probably these were the first signs of my heart attack, a week later.
There is a film of all three stages. And as a bonus, a summary of the entire tour.
The birthday tour 2021 - A small gift becomes a tour
In order not to be at home on your birthday, a participant asked me for a small tour. I have taken up and made a round trip over four days.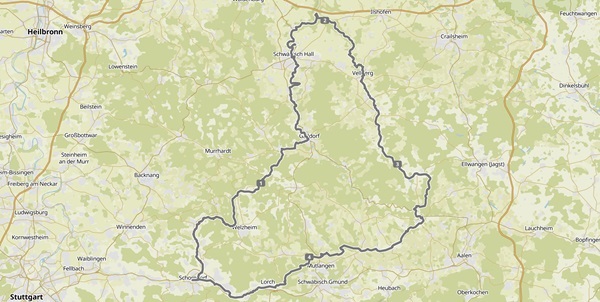 I planned the route together with the overnight stays.
That was not easy and nerve-racking.
From the Kocher valley up through the Bühler valley and in the Swabian-Franconian forest back via the Lorch monastery.
Despite meticulous planning, we couldn't avoid an extreme climb on the very first day.
During the tour the weather was quite autumnal and on the third day we got really wet. But that was the shortest stage, so not so bad.
Also from this tour there is a separate movie for each stage. And again a summary of the whole tour.
The birthday tour 2022 - As a gift for me (preview)
For my own birthday I could also make a tour, right? Something easy, with pleasure and not so much uphill.
And with everything I like: lots of nature, beautiful views, small towns, beautiful churches, good food, beer and a little luxury to boot.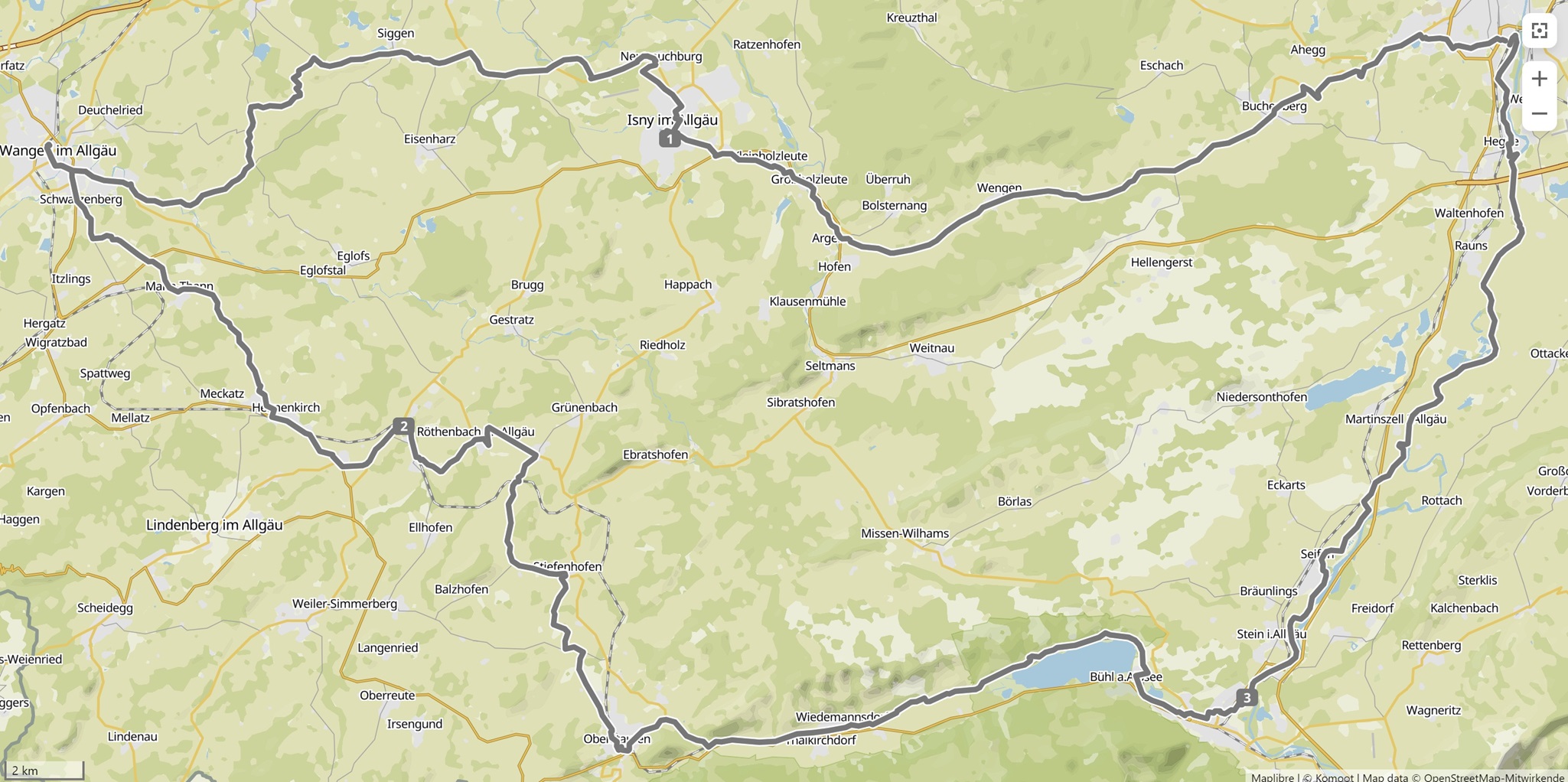 I plan the route along with the overnight stays.
That is actually quite simple. After all, I know myself and I know what I like.
In the Allgäu without much uphill? Well, that could work.
From Kempten via Isny to Wangen. Then on to Oberstaufen. And over the Alpsee again back to Kempten. Meticulously planned and yet full of surprises.
Some places are full of memories, there's something to dream about on the way.
Also from this tour there will be a separate film for each stage. And of course a summary of the whole tour.
Booking option
This tour will be available via the ADFC tour portal. There is intentionally no further information!
A reservation is only possible there, the places are limited. Participation is only after prior telephone contact or for me personally known participants by appointment. I expressly reserve the right to select the participants.
I have no intention to make a profit and all participants drive at their own risk.
No warranty possible, no refund in case of cancellation or abandonment.